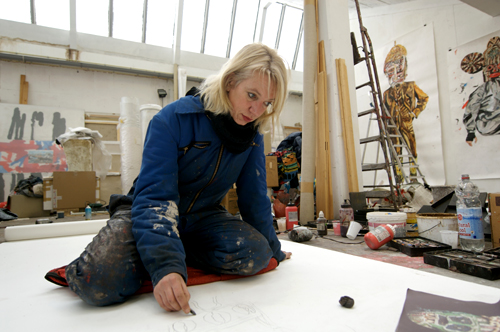 Charlotte Schleiffert was born in 1967 in Tilburg, The Netherlands.
She lives and works in Rotterdam (NL) and in Xiamen (China).
Life-size figures in her drawings and paintings are fertile soil for Charlotte Schleiffert's fantasy, based on power and suppression. Besides the fact that passionate women are central in her work, she feels committed to the social and political movements of our global society in general.

"Schleiffert's area of interest comprises outspoken physical figures and human impulse. She does not subdue this drive with gentle amorousness nor does she eroticize. Her topics serve her expressive capacities, as she pursues the right painting with intellect and fury."(W.A.L. Beeren)

Her work is both raw and sensual, direct without hypocrisy. It is suggestive, balancing between abstract compositions and figurative forms. The broad combination of media treatment (oil, acrylic, egg tempera, pastel foil, tissue ….), the violent coloration and contrasting compilations underwrite Schleiffert's authentic contribution to contemporary painting.

Walter Geys.